Bentley Limousine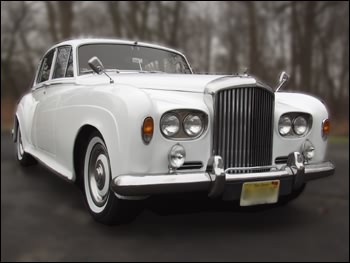 For a larger view of the Bentley Limousine photos, please hover your mouse over the thumbnails below.
Instantly recognizable from others, the Bentley limousine will make your eyes dazzle from the remarkable antique chrome grill when it is picture time. By its broad D-pillar aft of the rear doors, the new white & blue leather interior of this limousine allows its rear seat passengers to sit deeply recessed within a unique and luxurious interior, well away from prying eye's natural sight-line.
Not only does this afford a considerable degree of security and seclusion, it also provides passengers with a beautifully cosseting environment. A true gem from the 1960's. Some amenities that the Bentley limousine has to offer would be it's 3 passenger seating capacity, plush blue carpeting, Burl wood accents and let's not forget the fold down tables for the GREY POUPON photo opt.
The Bentley is the perfect limousine for just about any occasion. Whether it be for your New Jersey Wedding , New York Wedding or even a Sweet Sixteen , you can count on Fancy Limos for luxurious limousine transportation.
Reserve a Bentley Limousine today at our New Jersey Limousine Service. In northern and central New Jersey, call 732.409.9961. In southern New Jersey, Eastern Pennsylvania and Philadelphia, call 856.667.5446. For a New York Limousine call 1.866.409.9961.