Chrysler 300 Limousine - Ultra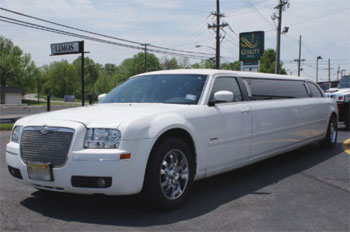 For a larger view of the Chrysler 300 Stretch Limousine photos, please hover your mouse over the thumbnails below.
Our flagship model at our New Jersey Limousine Service represents the pinnacle of style and elegance. Professionally designed by Design Works USA, a subsidiary of BMW, this interior is the newest and most popular member of our line up. No detail was left unturned in creating this Chrysler 300 limousine and the result is an elegant, modern design that will impress even the most discerning clientele.
The headliner sports curved, flowing lines and is masterfully executed in a soft, felt-like material distinguished by neon & fiber optic lighting, nicely trimmed aircraft-like dome lights and overhead A/C vents. The bar console, the artful centerpiece of the V interior, is exquisitely finished in a choice of several high-gloss paint or carbon fiber finishes, accented by a variety of hardwood or lacquer insets and translucent glass holders. Even the glassware is hand-selected for fit and feel. Another appealing component, the stainless steel foot rail provides for passenger comfort as well as protection for the console. These stylistic elements create an ambiance that compares to no other limousine in the world. Amenities on the 120V include multiple LCD TVs, DVD, digital overhead control panel with automatic climate control as standard equipment.
The Chrysler 300 is the perfect limousine for just about any occasion. Whether it be for your New York Prom , New Jersey Wedding or Pennsylvania Wedding, you can count on LimousineServiceNJ.com for luxurious limousine transportation.
Reserve a Chrysler Limousine today at our New Jersey Limousine Service.