Hummer H2 Limousine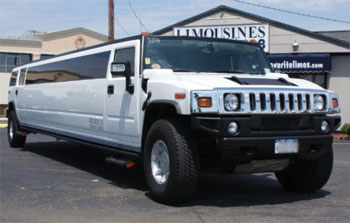 For a larger view of the Hummer H2 Limousine photos, please hover your mouse over the thumbnails below.
This is an awesome vehicle in every way. The new H2 Hummer Limousine styling is superb and the way that this one is equipped makes it extraordinary. This vehicle is sure to excite you and the ride is one of the smoothest of any limousines on the road. This vehicle is spacious and is even equipped with, fiber optic, stainless overhead with star-gazer lights, multiple color LCD TVs, Dolby surround sound audio, DVD and much more to tell. Not to mention a 3000 watt stereo sytem. Rent this vehicle as your NJ wedding limousine or any event to remember.
Reserve this Hummer H2 Limousine today at our New Jersey Limousine Service.