Rolls Royce Limousine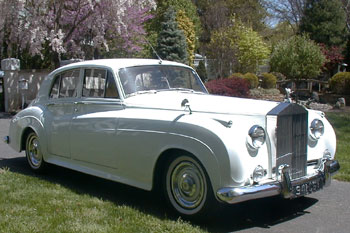 For a larger view of the Rolls Royce SIII Limousine photos, please hover your mouse over the thumbnails below.
One look at the Rolls Royce limousine chrome grille in profile and you will see how great it would be for photos. This limousine seats 2-3 passengers. The first and most important thing to mention would be the installation of its upgraded air conditioner unit. Secondly a newly overhauled interior redone in blue and white leather with blue carpet floors. Other amenities included AM/FM/CD player, Burl wood accents, fold down rear tables. Not to mention authentic right hand European drive. customers for such a car will almost invariably travel in the back, all the extra wheelbase has been given over to enhancing room in the rear for the bride and groom.
This car is now offered at our New Jersey Limousine Service and is available for view.
Reserve a Rolls Royce Limousine today at our New Jersey Limousine Service.