Jaguar Limousine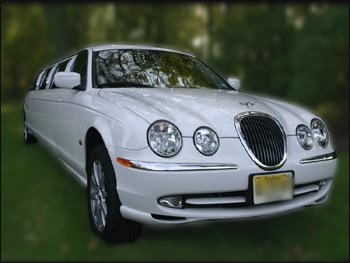 For a larger view of the Jaguar Limousine photos, please hover your mouse over the thumbnails below.
Referring to the Jaguar S-TYPE as a mere luxury vehicle misses the point. While the Jaguar S-TYPE Limousine does feature uniquely sensual styling, reflecting its celebrated predecessors of the 1960s, its breathtaking combination of performance, technology, and high-grade interior appointments make an S-TYPE literally impossible to mistake for anything else. This breathtaking coach is distinguished by neon & fiber optic lighting, nicely trimmed aircraft-like dome lights and overhead A/C vents. The bar console, the artful centerpiece of this interior is exquisitely finished. Accented with a variety of hardwood or lacquer insets and translucent glass holders. Even the glassware is hand-selected for fit and feel.
Reserve a Jaguar Limousine today at our New Jersey Limousine Service. In northern and central New Jersey, call 732.409.9961. In southern New Jersey, Eastern Pennsylvania and Philadelphia, call 866.409.9961. For a New York Limousine call 1.866.409.9961.