Night On The Town Limousine
A promotion at work, special anniversary, or a night out with old friends – whatever the occasion, let NJ's premier limousine service help make your evening spectacular! You, your friends and loved ones can paint the town red in one of our New York, Pennsylvania or New Jersey's finest Night On The Town limousines without worrying about where to park or who will drive.
We understand that days are hectic and your free time is precious. When you've planned a NY or NJ night out, a limousine will ensure that you can relax and enjoy your time away from the stress of everyday life.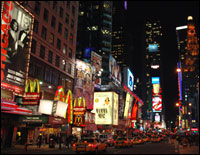 With one of NJ's finest selections of Night On The Town Limousines on hand, we can help you choose the right one for your special evening. A Chrysler 300 Ultra or Cadillac Escalade limousine will transport your party to Manhattan for an incredible dinner or your favorite club for a night of dancing. A luxury sedan like a Rolls Royce is the perfect choice for a romantic night out, and the convenience of a limousine means you can focus on your attention on your date rather then the hassles of traffic.
Reserve a Night On The Town Limousine today at our New Jersey Limousine Service.