Escalade Limousine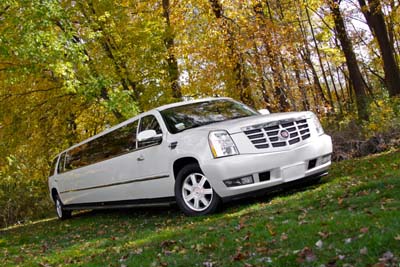 For a larger view of the Cadillac Escalade Limousine photos, please hover your mouse over the thumbnails below.
The Cadillac Escalade Limousine is one of the newest additions to the model line-up, offers the maximum seating capacity in a beautifully appointed interior featuring all the latest amenities. This super-stretch limousine features multiple color LCD TVs, avonite-topped bars with aluminum trim, stainless-steel starlight headliner, luxurious two-tone seating and a hi-end sound system as standard equipment. This 200" Escalade limousine meets or exceeds all Federal Motor Vehicle Safety Standards and features fully welded frame rail extensions made of HSLA steel. The design team spared no expense to deliver a top-quality limousine that is both well appointed and superbly engineered. Fancy, once again, delivers a new standard in the limousine industry.
The Escalade is the perfect limousine for just about any occasion. Whether it be for your Bachelor Party, Bachelorette Party or even just a Night Out, you can count on LimousineServiceNJ.com for luxurious limousine transportation.
Reserve an Escalade Limousine today at our New Jersey Limousine Service.