Chrysler 300 Limousine - Mega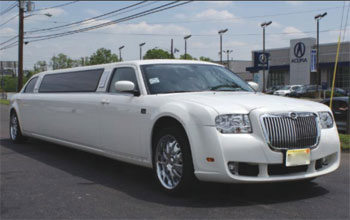 For a larger view of the Chrysler 300 Stretch Limousine photos, please hover your mouse over the thumbnails below.
The Chrysler 300 Limousine at our New Jersey Limousine Service represents the pinnacle of style and elegance. No detail was left unturned in creating this Chrysler 300 limousine and the result is an elegant, modern design that will impress even the most discerning clientele. Some of the amenities included are multiple LCD TVs, DVD, digital overhead control panel with automatic climate control as standard equipment.
The Chrysler 300 is the perfect limousine for just about any occasion. Whether it be for your New Jersey Prom, New York Wedding or just a Night On The Town, you can count on LimousineServiceNJ.com for luxurious limousine transportation.
Reserve a Chrysler Limousine today at our New Jersey Limousine Service.