Party Bus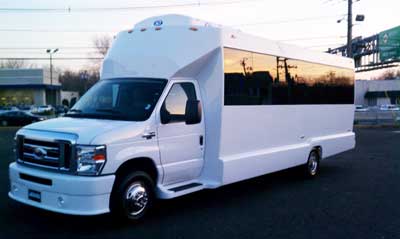 For a larger view of the Party Bus photos, please hover your mouse over the thumbnails below.
This is the Ultimate Party ride. The 24 passenger party bus is a spacious upright vehicle, with a white exterior and plush leather couch appointments. It has large tinted windows on each side. The Party Bus features four flat screen TV's and bar. Its deluxe lighting and audio package sets a party atmosphere: a 3000 watt entertainment system for the highest quality listening experience, and fully controlable ambient lighting. Ice coolers, wine cooler and champagne cooler, stainless steel sink with running water and lighted graphics above the sink area are also included. It has a fabulous air-conditioning system.
The Party Bus also features air ride suspension to ensure the smoothest ride possible in this world class travel machine. You can truly ride first class in this limobus. It is as close as you get to a nightclub on wheels! Lets not forget to mention that a 6 foot 5 inch individual can stand up and walk around the limo portion of this vehicle.
The Party Bus is the perfect vehicle to take to a game with a group of friends. You can tailgate before the game, come back to the Party Bus to watch the game if the weather gets bad, and tailgate after the game. It is also great for proms and weddings. A true party machine on wheels.
Reserve this Mercedes Benz Party Bus today at our New Jersey Limousine Service.