Excursion Limousine - Ultra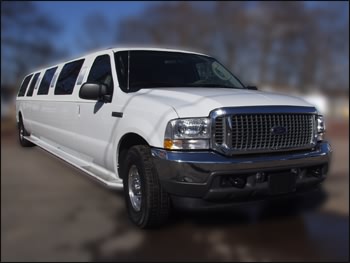 For a larger view of the Ford Excursion Limousine photos, please hover your mouse over the thumbnails below.
Powerful and durable, our New Jersey limousine service offers the 140" Excursion limousine, giving a larger passenger capacity than a standard limousine. It is one of only a few manufacturers approved SUVs and is built with the quality you've come to expect. The overhead flowing lines are masterfully executed in a soft, felt-like material distinguished by neon & fiber optic lighting, nicely trimmed aircraft-like dome lights and overhead A/C vents. That quality is reflected throughout this luxurious interior which features our most popular bar with numerous hardwood, lacquer and carbon fiber trim options. The Excursion Limousine is loaded with many amenities such as a hi-end sound system and multiple color LCD TVs as standard equipment. Pictured here the pewter interior and pillows and a beautiful carbon fiber finish on the bar console.
Reserve an Excursion Limousine today at our New Jersey Limousine Service. In northern and central New Jersey, call 732.409.9961. In southern New Jersey, Eastern Pennsylvania and Philadelphia, call 856.231.0808 . For a New York Limousine call 1.866.409.9961.