Excursion Limousine - Mega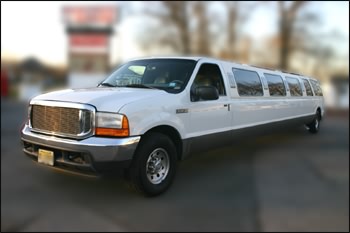 For a larger view of the Excursion Limousine photos, please hover your mouse over the thumbnails below.
Our Ford Excursion Limousine mega stretched SUV offers the maximum seating capacity in a beautifully appointed interior featuring all the latest amenities. It has a beautiful hard wood floor, neon fiber optics also with a star-gazer ceiling, luxurious two-tone seating and a hi-end sound system as standard equipment. This is surely one of the roomiest SUV limousines we have for your enjoyment at our New Jersey Limousine Service.
Reserve an Excursion Limousine today at our New Jersey Limousine Service. In northern and central New Jersey, call 732.409.9961. In southern New Jersey, Eastern Pennsylvania and Philadelphia, call 856.231.0808 . For a New York Limousine call 1.866.409.9961.