Limousine Coach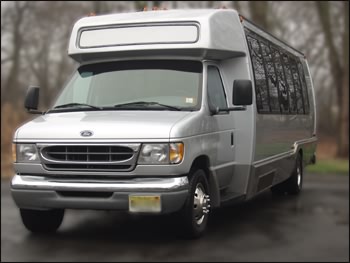 For a larger view of the Krystal Limousine Coach photos, please hover your mouse over the thumbnails below.
The Limousine Coach is the only true Limo Coach manufactured along side stretch limousines. The all-new interior has recently been re-designed and the results are stunning! The luxurious interior features pergo wood floors, three separate wood-topped bars with cut glassware, multiple color televisions including Sony play station, DVD & surround sound systems, leatherette limo-style seating, fiber-optic lighting throughout. These rich amenities produce a finish that is unparalleled in the specialty vehicle industry and one that your guest will most certainly appreciate. Lets not forget to mention that a 6 foot 5 inch individual can stand up and walk around the limo portion of this vehicle.
Reserve a Limousine Coach today at our New Jersey Limousine Service. In northern and central New Jersey, call 732.409.9961. In southern New Jersey, Eastern Pennsylvania and Philadelphia, call 856.231.0808 . For a New York Limousine call 1.866.409.9961.